WONDERDREAM™ Nano-Atomization House Humidifier/Diffuser (FREE Light & Fan Included - Limited Time Only)
Regular price $74.99 $29.99 60% OFF
OVER 10,000 HAPPY CUSTOMERS
4.9/5 STARS


Create a relaxing workspace or a peaceful home environment with the mist of your favorite fragrances or essential oils. Our NANO-ATOMIZATION HOUSE DIFFUSER is versatile enough to enhance any atmosphere.
MULTI USE
NANO-ATOMIZATION TECHNOLOGY

Use with water, As Humidifier — Fill up whole container with water.

Increase Air Humidity

- Great for reducing dust and allergens in your space which can reduces sinus inflammation.

Beauty Benefits

- Allow your skin and hair to hydrate and glow with increased water in the air. Alleviate chapped lips, dry eyes, dry/bloody nasal passages.

Prevents or Reduces Symptoms

- Helps prevent colds, flus, viruses, allergies and asthma. Reduce symptoms of sore throat, congestion,

 

snoring and lubricated nasal passages.

Improve mental clarity

- Increased levels of oxygen in the air can increase awareness, relaxation and focus.

Use with any fragrance or essential oil, as Fragrance Diffuser —

 

(Only 1-2 sprays needed for 6-10 hours)

Transforms Your Environment

- turns fragrances or essential oils into a gentle, fragrant mist to surround you with the fragrance you love. [Our Oils Are Available Below As A Bundle, scroll down to purchase as bundle.]

Reduce Stress & Anxiety

Particularly

- oils like lavender, frankincense reduce anxiety and promote calmness of body and mind.

Improve Sleep Quality

-

Lavender and Eucalyptus oil all stimulate a release of serotonin and melatonin, promoting a night of restful, uninterrupted sleep.

Elevate Mood

-

Oils such as lavender and peppermint promote positive feelings by raising the frequency of the body and elevating your mood.

Increase Focus

-

Certain oils such as eucalyptus and peppermint are great for giving you a critical boost to energy and mood.
TURN YOUR ENVIRONMENT INTO FRAGRANCE HEAVEN

Infused Fragrance or Essential Oil — Make your home smell amazing and enjoy essential oil benefits [Our Oils Are Available Below As A Bundle, scroll down to purchase as bundle.]
Nano Atomization Technology — Atomizes fragrance/essential oil 10x better than other diffusers and bind with water molecule. (1-2 drops of fragrances or essential oil can last 10 hours)
Smart Nano Chip — Controls auto shutoff, 4/6 hr timer , 7 color LED, intermittent + continuous modes.
Auto Shutoff — Never worry about forgetting to turn off your diffuser.
4 hr timer — Create an enjoyable environment without the negative effects of high humidity.
2 Lighting Modes — Use with 7 color led or leave it completely off.
2 Mist Modes — Use in continuous or intermittent mode.
High Efficiency Filter — reduce sediment, rust, scale, dirt and sand.
250 ML — Perfect size for 10 hours of usage. Perfect humidity around the house.
FREE light and fan included - Limited Time Only!
"I knew this was amazing when my girlfriend came into my room and loved the way it smelled" - Jason
"The perfect balance between function and design, I enjoy my stay at home much better." - Jeremy
"I haven't slept better in months, humidified air is very therapeutic" - Rose
How long does the water last?

Each container of water lasts around 10 hours.
Yes, We suggest adding 2 drops of oil/fragrances into the water to dilute the product. It's important to use high quality / organic oil to use with animals.
I have hayfever/sleep/allergy/sinus problems, can this help?

We've heard from many of our customers that using this as a humidifier has helped with many sinus issues. Having correctly humidified air is very therapeutic and reduces dust and allergens in the air. Some of our customers also use lavender oil to help with relaxation and to stay calm. Please always consult with a doctor.
Does this require a battery?
Our product comes with a universal USB wire. This is so that the product can be used in many different places. To ensure constant voltage, the USB wire must be plugged in to stay operational. You can use your iPhone/Android charging head, with your computer or laptop, even with your portable charger.
Can I turn off the lights?
We have many modes with our 7 colored LED. It can be turned completely off or with any of the 7 LED colors.
7 Different Light Features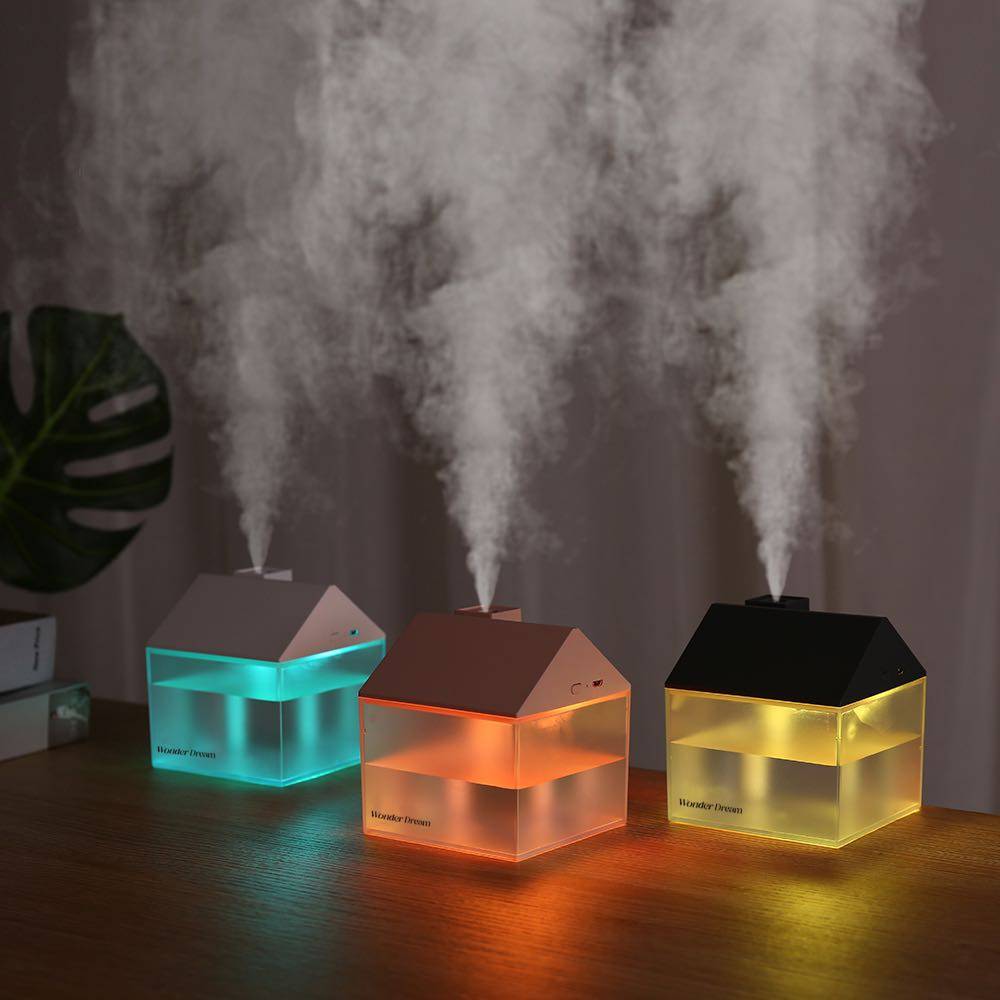 We highly recommend buying 1 for each room of the house or gift to friends and family so they too can enjoy a fully aromatic home.
⭐⭐⭐⭐⭐
Loved & Used Worldwide by Fragrance Lovers.
HOW TO USE (Easy):
Lift up roof cover
Add the right amount of tap water then put the roof back on
Connect USB power
Press and hold the switch to turn on spray mode
PRO TIP: Add perfume or essential oil in it for extra aromatherapy diffuser or essential oil diffuser
people are currently looking at this product
Guaranteed Safe Checkout